Exclusive professional gardener maintenance services.
Garden maintenance is the practice of hiring a gardener regularly to keep your garden looking neat and tidy allowing you to enjoy the benefits of a beautiful garden for relaxing, sunbathing, enjoying outside events such as parties,  Bar-b-ques, socialising with friends and family.
Quality alone time in  your own nature space or just fun loving playing with the pets and kids in the sunshine. Your garden will be ready to go when ever the opportunity arises to enjoy the great outdoors at home always looking its best and ready for you to enjoy any time you like!
There is no standard gardening maintenance service, it is often a broad term used that covers a range of individual gardener services, that is combined into what is typically a weekly or fortnightly regular visitation.
Gardening maintenance can be very minimalistic where some gardeners offer basic lawn mowing services only. This kind of grass cutting service is great if you have a very large lawn, and very large areas of grass that needs cutting regular throughout the growing season. This service is also good for those types of gardens where there is only lawn surrounded by fences and need regular lawn mowing to keep it looking good.
Some other gardener maintenance services may also include some lite weeding and weed killer service too.
Other garden maintenance may include all the above, and also include basic pruning of smaller trees, hedges or overgrown shrubs.
Specialised gardeners like myself can offer a much more detailed and higher level of advanced skills and expertise, also including more specialised and powerful professional tools. These tools are more specific for each job like reaching the taller hedges trees and shrubs.
Chainsaw pruning for those thicker branches of problematic trees for example. Long reach hedge cutters combined with professional specialised step ladders used to prune and reshape larger trees, shrubs and hedges.
Heavy duty strimmer's and brush cutters for effectively clearing tall overgrown and dense areas of weeds, tall grass, thistles, brambles and the like that are so powerful they cut through with the greatest of ease and speed.
All these tools need to be regularly maintained for optimum performance, with regular sharpening of the blades to give you the customer a fast and efficient end result with a professional finish and detail that gives you a very high quality and standard of workmanship. 
This is also very important for the lawn, plants, trees and shrubs that they receive a clean sharp cut to minimise rot and disease caused by blunt tools. Sharp pruners, hedge trimmers and loppers create healthy new growth of hedges trees and shrubs that keeps the garden looking lush neat and tidy all year long.   
These more detailed and specific services will include
More refined lawn mowing  with nice and neat trimmed edges and stipes.

Regular hedge trimming services, that keep the hedge looking great all year round.

Regular pruning, to encourage more longer lasting flowers, healthy growth, and natural shaping of trees and shrubs.

Advanced weeding and weed control both in the garden and also around the property, paths patios and driveways.

Regular lawn care services, can include lawn repairs, lawn feeding, moss control allowing you to enjoy a lush green lawn throughout the growing season.

Strimming unsightly tall grass and tall thicker problematic weeds such as thistles, brambles, nettles etc.

General finish and tidy up including leaf blowing, clearing debris, fallen twigs and tree branches etc or when the garden is looking a bit overgrown and unsightly.

Plus much more and many other gardening tasks available as standard.

Whatever state your garden is in, it can be brought back to its former beauty in no time at all.

If your garden looks great already, we can keep it looking that way all year round to enjoy whenever you like.
By using Roy's garden maintenance you have access to all the above services plus many more!
Whatever needs to be done will be taken care of and nothing is too much trouble for your guaranteed satisfaction.
Plus you will get an 
amazing
unmatched, unrivalled and
unequalled reliable
professional service at a
fair, and highly competitive price!
I love giving my customers great value !
So using my services you get the benefit from the use of professional tools, that are always sharp and well maintained.
Plus the unique combination of the full range of individual services that i can provide for you.
So whatever your garden needs, it will be taken care of by myself, keeping your garden looking great and ready to enjoy whenever you like. 
Reliable regular gardening service.
Clean neat and tidy workmanship.
Attention to detail and highly focused.
Respectful of your property and privacy.
Domestic and commercial property undertaken.
Whatever the garden needs, it will be done.
Pet safe and child friendly products used.
Natural gardening style and practises.
Great job done at a fair price.
As my customers say it best,
Thanks Roy, "you can always tell when you've been. My garden looks fantastic as always"
 Call or get in touch with me today to get the ball rolling, and join the happy family of delighted and satisfied customers! 
 It is a great feeling when you instinctively know you've made the right choice.
Call, Text or email me now, you will be glad you did!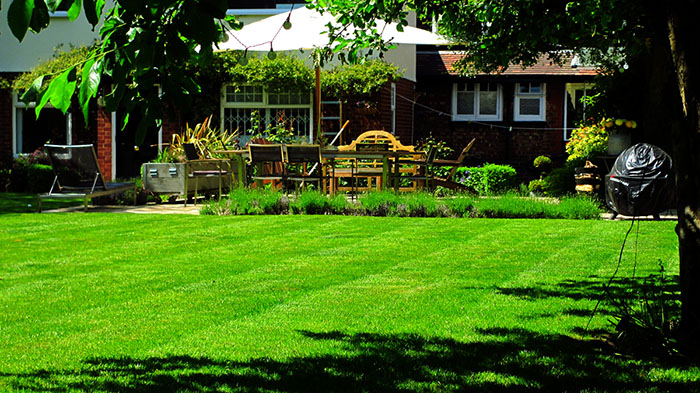 Quality local gardening services and gardening maintenance with a natural style,
and the benefits of using child safe, and pet friendly biodegradable organic products.
I offer all my clients one of the widest selection of top quality gardening services available, combined with child safe, and pet friendly natural products. Using these natural products puts the life back into your garden, attracting beneficial bacteria, fungus, worms and insects back into the soil.
These beneficial organisms break down organic matter and create soluble nutrients that the plants can take up, feed on and easily absorb. 
This then attracts beneficial insects like ladybirds that protect plants from other unwanted pests, this then attracts butterflies and bees that pollinate the healthy vigorous  plants.
All this activity will then attract all types of birds that feed on the living abundance of worms and insects, will make nests, then lay eggs, and rear young birds that feel safe in the dense healthy leaves and branches in the trees, bushes and hedges.
All this bringing more life and enjoyment into a vibrant, healthy, and balanced, living natural style garden for you and nature to enjoy.
In the garden these bioactive organic products produce fertile soil, lush green grass and healthy roots, fast growing strong healthy plants, vibrant colourful flowers with stronger scents and fragrances.
Organic home grown herbs, fruits and vegetables.
If you like to grow your own food you will get larger nutrient rich fruit and vegetables that simply tastes amazing!
because they are organic they are naturally easier to grow, are stronger healthier plants, that are very high in essential minerals, amino acids, and nutrients that our bodies can readily absorb and use, they are also full of natural living life energy.

Which is one of natures secrets to good health, vitality and longevity!
.
Organic products produce next level tastier herbs, fruits and vegetables with bigger yields.
They are naturally more nutritious and healthier and are much less likely to suffer pests and disease.
These home grown organically grown foods are much better than you can possibly find in the shops, and contain the full spectrum of concentrated nutrition for your health, longevity, wellbeing and vitality.
You can be assured that you will have to go a long way to find a like for like service giving you such variety combined with such consistent great results!
Professional gardening services for all types of clients
Personal garden maintenance for any type of garden.
For large medium and smaller gardens that maybe overgrown or neglected, to established gardens that need regular maintenance to keep the garden looking its best all year around, I have extensive and flexible gardener maintenance services available.
For knowledgeable and keen gardeners 
Use my services and professional gardening tools to do all the hard work for them, advising me on what they require, and me giving them exactly what they want, to keep the garden looking great.
For the Elderly who cannot manage to do the heavier tasks in the garden.
No problem, I can help with whatever your needs, I work for many such individuals who love gardening but cannot do the harder work whatever the reason.
Just give me a call I can take care of all the harder tasks, leaving you to get on with what you can do and still enjoy the garden and the gardening you can manage.
I can take care of the heavier tasks and take away all the frustration and the stress.
Make your life a lot easier in the garden so that you can enjoy and relax in the garden after all the hard work is done for you. 
For the inexperienced and for those who know nothing at all about gardening
Use my local gardening services and allow me to progressively create a beautiful garden for them, offering them advice on planting bulbs, and herbaceous perennial plants that come back every year.
Or for a faster more instant alternative are bedding plants, great for instant effect, in borders, raised beds and hanging baskets.
You can simply leave everything to me to get your garden looking great by planting trees and evergreen shrubs if they are needed. 
I have such clients who really appreciate my knowledge, skills and expertise by doing it all for them, and at the same time creating a beautiful garden space that they can really enjoy the sunny outdoors anytime they like, from the comfort of their own home.